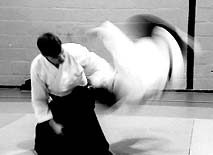 Warborough Jujutsu Club
Warborough Jujutsu Club is a martial arts club practicing a traditional Japanese martial art in the village of Warborough. We are a few miles south of Oxford, just outside Wallingford - See these details of how to find the Warborough martial arts class.
The martial art of jujutsu,also spelt jujitsu, is a forerunner to modern judo and aikido. It has many different styles or schools. Although each style emphasises different aspects, all share a number of features.
News
September 2013
Classes restart after the summer break on Tuesday 3rd September at the Greet Hall, Warborough, Oxfordshire.