Warborough Jujutsu Club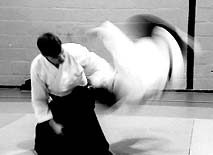 Warborough Jujutsu Club is a martial arts club practicing a traditional Japanese martial art in the village of Warborough. We are a few miles south of Oxford, just outside Wallingford.
The martial art of jujutsu,also spelt jujitsu, is a forerunner to modern judo and aikido. It has many different styles or schools. Although each style emphasises different aspects, all share a number of features.
We've got a page on Facebook which we try to keep up to date with what's happening at the club. You can also get in contact by sending an email to giles@jujutsu.org.uk.